Best Online Colleges and Universities
Image Credit: Prostock-Studio / iStock / Getty Images Plus / Getty Images
The number of online students has increased dramatically in recent years. In fall 2020, nearly 74% of all college students in the U.S. were enrolled in at least one online course, and close to 46% of students were exclusively enrolled in distance education.
Why do so many students choose a distance online learning format? Online colleges offer flexibility, affordability, and accessibility. Taking classes online is convenient. It's easier to fit school into a busy schedule and is often a more affordable option.
BestColleges.com is an advertising-supported site. Featured or trusted partner programs and all school search, finder, or match results are for schools that compensate us. This compensation does not influence our school rankings, resource guides, or other editorially-independent information published on this site.
Ready to Start Your Journey?
Today, most schools offer online courses. In 2018, the National Center for Education Statistics (NCES) reported that 79% of colleges offered distance education options. However, prospective students need to make sure they choose a reputable school. The best colleges and universities offering an online option hold accreditation, offer multiple online programs, and provide online support services for students.
What to Expect From Online Degree Programs
What can you expect during an online degree program? And why do students choose this option instead of in-person programs?
Online learners complete coursework in a virtual format. Many courses use the same curriculum and teaching materials as on-campus classes. The delivery method differs, however. Instead of attending classes in person, distance learners complete graduation requirements online. This flexibility appeals to many degree-seekers.
Depending on the program, learners may participate in labs, simulations, practicums, and internships. Schools often work with distance learners to help them figure out where to complete in-person requirements locally. For example, education majors complete student teaching requirements at a local school. And online business students can gain internship experience in their area.
Earning an online degree typically takes the same amount of time as an in-person degree. Full-time undergraduates can complete an online bachelor's degree in four years or a master's degree in roughly two years. Many schools also offer accelerated programs that take less time.
Explore Online Degree Levels
Why Choose an Online College?
More than 14 million college students enrolled in at least one online class in fall 2020, and about 60% of these learners enrolled exclusively online (NCES). Why does an online learning format appeal to so many students?
Online colleges help degree-seekers balance classes with work or other responsibilities. In 2020, 40% of full-time students and 74% of part-time students worked while in school, according to NCES. Taking classes online makes it easier for working students to schedule school around their working hours.
The best options also offer an accessible and affordable path to a college degree. By choosing a distance learning format, students can compare top programs from across the country. Instead of restricting their options to local schools or paying to relocate, learners can enroll in top online programs in other states.
Finally, many online programs meet high academic standards — students don't need to sacrifice quality for convenience. Accredited online universities meet the same quality standards as in-person options. So, is this the best choice for you? Carefully weigh the benefits of attending college online before submitting your college applications.
Other Online Programs That Might Interest You
Learn about start dates, transferring credits, availability of financial aid, and more by contacting the universities below.
Pros and Cons of Online Degrees
Pros
Flexibility to learn on your schedule

Network with people around the world

Save time/money on commuting

May be more affordable than on-campus programs

Access to online tutoring and career services
Cons
Requires more self-discipline

Not all programs are available online

More technical requirements

Potential social isolation and loneliness
How to Choose an Online College
Choosing an online college will shape your education and your future career. How can you choose a program that fits your schedule, budget, and goals? Many prospective students look at costs but fail to consider other factors that can impact their experience and career options.
According to online education advisor and BestColleges principal writer, Melissa Venable, Ph.D., you should consider your unique goals first when looking at options. "Take some time to identify why you want to pursue an online degree and the kinds of support you'll need to succeed. Look for support services and resources that are important to you, such as tutoring, career counseling, internship coordination, social clubs, and health and wellness classes."
Research the following factors to find the right fit for your unique circumstances.
Research Program Cost
Cost is a major factor for many students when it comes to choosing a college. Expenses can vary widely, with an online degree from a distance-learning institution costing an average of $10,089-$17,047 per year during the 2020-21 school year, depending on whether a school is public vs. private or for-profit vs. nonprofit. The cost can also vary based on the program and delivery format. For many students, an online delivery format can save money.
However, looking at the tuition rate alone can mislead applicants. On top of tuition, students should budget for technology costs, books and supplies, and other fees. Additionally, keep in mind that financial aid can lower the cost of a program — many students pay significantly less than the advertised sticker price for college. When deciding on a school, factor in the total program cost and financial aid opportunities.
Check the School's Accreditation Status
Distance learners should always choose a properly accredited school. But what is accreditation, and why does it matter?
Accredited institutions meet high standards for educating learners. Schools receive accreditation by undergoing a rigorous review from an independent accrediting agency. These accrediting agencies evaluate a school's academic mission, teaching materials, student learning outcomes, and faculty qualifications.
And accreditation matters for students. Accredited schools tend to provide a higher-quality education that meets the requirements for more professional licenses and certifications. In many fields, employers only hire graduates from accredited institutions. And only distance learners at accredited schools can qualify for federal financial aid programs.
Choose Your College Major
Some students enter college with a clear idea of their major, while others take time to explore different disciplines.
If you're struggling to choose a major, think about your strengths, the typical earning potential of different majors, and career options. Taking general education courses can help you narrow your options. Finally, consider the transferable skills and program requirements for different majors. Will you need to complete a practicum? What does the job market look like for different majors? Once you've engaged in some self-reflection and completed some research, find a major that fits most of your requirements.
Determine Which Online Learning Format You Prefer
Online programs offer several delivery options. For example, many programs use a fully online format, while others operate as a hybrid program with some in-person requirements. You can also enroll as a full-time or part-time student. And some programs offer accelerated bachelor's degrees.
Distance learners may take classes synchronously or asynchronously. A synchronous format offers live class sessions that encourage interaction, while asynchronous classes do not hold set meeting times. An asynchronous format may appeal to working professionals and busy students. Consider which format best fits your schedule.
Confirm Student Support Resources
The best online colleges offer ample student support services. For example, most online universities offer admissions and financial aid advising to help incoming students enroll. Once learners join a college, they meet with academic advisors to plan their class schedules. Many colleges offer online tutoring, writing centers, and library access to distance learners.
Look for schools with internship programs, career services, and mentorship opportunities. These support services help learners plan their next step and train for the job market. Research available student services when comparing online colleges. You can also contact schools to ask about their online services.
Consider For-Profit vs. Nonprofit Universities
In higher education, nonprofit colleges generally have stronger academic reputations. However, some students may benefit from choosing a for-profit college.
Nonprofit colleges operate with a primary mission of educating students rather than bringing in a financial profit. For-profit colleges, in contrast, operate to raise revenue for shareholders. While nonprofit colleges tend to offer academic programs in the liberal arts, business, and STEM fields, for-profit colleges often focus on technical or vocational education. In some cases, students seeking career-focused training may benefit from attending a for-profit college.
Consider the pros and cons of for-profit colleges when choosing online schools.
How to Apply
Online colleges set different admission requirements and use different application systems. So how do you apply?
First, research the school's application process and requirements. Most schools ask for an online application, official transcripts, standardized test scores, an essay, and letters of recommendation. Test score requirements vary by school. Colleges often ask for SAT or ACT scores at the undergraduate level, though many use test-optional admission. At the graduate level, the most common tests include the GRE, GMAT, and LSAT.
Then, check the application essay requirements. You might be asked to write a response to a prompt, submit a writing sample, or provide a statement of purpose outlining your background and goals. Next, look at the letter of recommendation requirements. Many schools ask for 1-3 letters from former instructors, supervisors, mentors, or others who can speak to your strengths.
Finally, look for additional requirements, such as interviews, financial aid forms, or transcript evaluations. Transfer students can also contact schools to learn more about their transfer credit policies. Most students apply to around six colleges, so make sure to budget enough time for the application process.
Financial Aid Options
Financial aid makes college more affordable for many students. But can you use financial aid for an online program? Fortunately, online degrees at accredited schools meet the requirements for many forms of financial aid. Distance learners can submit the FAFSA to see if they qualify for federal grants, loans, or work-study funds. Online students can also qualify for state grants, private scholarships, and institutional aid.
For most students, submitting the FAFSA represents the first step in getting financial aid. The FAFSA determines eligibility for federal student aid programs. Colleges may also use the FAFSA to award institutional aid. While the FAFSA deadline is June 30 each year, students should submit the form as early as possible to increase their chances of receiving more aid.
Types of Aid
Loans
Degree-seekers can take out college loans from the federal government or private lenders. In general, federal loans offer lower interest rates and more repayment options than private loans. The average student loan debt among students with federal loans exceeded $37,000 in 2022. Scholarships and grants can help students decrease their loan burden.
Grants
Grants offer free money for college with no repayment requirements. Federal and state governments, along with institutions of higher education, offer college grants. Generally, undergraduates qualify for more grants than graduate students. For example, the popular Pell Grant program only supports undergraduates. Many grants come with income eligibility requirements.
Scholarships
Like grants, recipients do not need to pay back college scholarships, making them a great financial aid option. And distance learners can qualify for many online student scholarships. In addition to scholarships offered by colleges, degree-seekers can find external scholarships through professional associations, private foundations, and other sources.
How to Complete the FAFSA
1

Gather All Required Materials

You'll need certain materials to fill out the FAFSA. Make sure you have your Social Security number, federal income tax returns, bank statements, and other financial documents on hand. And determine whether you're a dependent for FAFSA purposes — this is not the same as being claimed as a dependent on tax returns.
2

Fill Out the FAFSA

The FAFSA asks demographic questions, like your name and date of birth. The form will also determine whether you're a dependent and ask questions about your parents or guardians. After filling out demographic information, you'll provide any financial information not listed on your tax return, like untaxed income.
3

Import Tax Information

You can import tax information for your FAFSA using the IRS Data Retrieval Tool. Dependent students can also use the tool to provide financial information for their parents or guardians. In addition to federal tax return information, applicants provide financial documentation of other financial assets.
4

Submit the FAFSA

Once you've filled out the FAFSA, which takes less than an hour for most people, you'll need to submit the form. Most applicants sign and submit online, which means a faster processing time. You'll need an FSA ID, as well as parental or guardian signatures if you're a dependent student. You can also print out a signature form, sign it, and mail it in.
5

Review Your Student Aid Report

In as little as three days, you'll receive a student aid report. This report lists your expected family contribution. Make sure to review the student aid report and correct any errors. The schools you listed on the FAFSA receive this report, which they use to create an aid package to help cover unmet funding gaps.
6

Compare Financial Aid Offers From Schools

You will receive a financial aid letter from the schools listed on your FAFSA. These letters contain a combination of loans, scholarships, and grants to cover the cost of school minus your expected family contribution. Take time to compare financial aid offers and choose the best fit. And remember to prioritize scholarships and grants over loans to lower your debt.
Best Accredited Online Colleges & Universities
How We Rank Top Online Colleges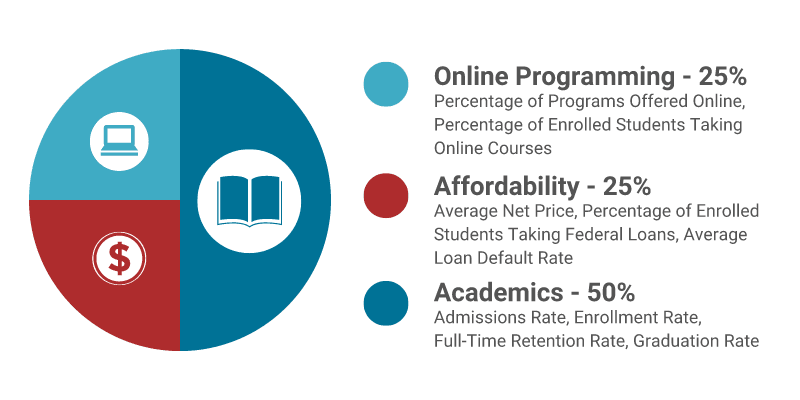 Each year, the BestColleges evaluates hundreds of schools to produce our annual Best Online Colleges ranking. In 2022, the team sourced the most recent data available from the Integrated Postsecondary Education Data System and College Navigator, both of which are hosted by the National Center for Education Statistics. We identified 984 schools that qualify for our ranking list based on the following criteria.
Each school must be an accredited, public or private, nonprofit institution.
Each school must offer at least 10 online bachelor's degrees and three online master's degrees.
Each school must submit an annual report to the National Center for Education Statistics.
To ensure the accuracy and quality of our final ranked list, the team reviewed each qualifying school to ensure it met the criteria for our ranking, and then applied our proprietary methodology to identify the best online colleges in the nation. Each school is ranked based on a formula measuring academic factors (50%), affordability (25%), and the availability and popularity of online programs (25%). Review our Editorial Policy to learn more about the standards we uphold.
Online Colleges Near Me
Distance learners can attend a program located in any state. This gives online students the option to enroll in a specialized program or an affordable college anywhere in the country.
However, some distance learners prefer a local school, even when attending classes online. Local colleges allow degree-seekers to take in-person classes, meet with professors in person, or attend networking events on campus. Learners may also benefit from lower tuition and the school's connections with local employers.
When researching online programs, it's a good idea to start with local options and then expand your search. Understanding the differences between in-state and out-of-state tuition can help degree-seekers decide whether to attend a local college in their state or pursue an out-of-state option.
Search Best Online Colleges by State
Popular State-Specific Resources
Explore Online Degrees and Subjects
What kinds of online degrees can you pursue? Reputable online colleges and universities offer degrees in various subjects, including many popular majors, such as business, education, healthcare, or STEM fields.
When choosing an online degree, make sure to research your career options. Some subjects train majors for specific career paths, while others help students develop transferable skills that appeal to employers in diverse industries. Research your options to make an informed decision.
Other Online Programs That Might Interest You
Learn about start dates, transferring credits, availability of financial aid, and more by contacting the universities below.
Frequently Asked Questions About Online Degree Programs
How long does it take to get an online bachelor's degree?
Earning an online bachelor's degree typically takes four years for full-time students. Many schools offer part-time or accelerated enrollment options. In a part-time program, learners generally take more than four years to complete a bachelor's degree, but they enjoy greater scheduling flexibility.
Accelerated online programs often take 1-3 years, depending on the program and a student's prior college experience. For example, many schools offer degree-completion programs designed for undergraduates with at least 60 transfer credits. These programs often take about two years. Prospective online learners can contact schools to learn more about the length of bachelor's programs and request a transfer credit evaluation.
Do employers like online degrees?
Many employers hire college graduates who earn their degrees online. An online degree from an accredited college or university meets the same high academic standards as an in-person degree. At most colleges, distance learners and on-campus students earn identical diplomas.
Many online programs use the same instructional materials and faculty as on-campus programs at the same school. And online learners meet the same graduation requirements as on-campus students. As a result, many employers recruit graduates from online for various entry-level roles.
Is an online degree as good as a traditional degree?
The delivery method is the only difference between an online degree and a traditional degree. These schools set high academic standards for all degree-granting programs, including online programs.
Whether students enroll online or in person, undergraduates must complete general education requirements, major courses, and electives to earn a bachelor's degree. At accredited colleges, third-party accrediting bodies review curriculum materials and faculty qualifications for online and in-person classes. As a result, an online degree can offer the same quality of education as a traditional degree but with the benefit of a more flexible delivery format.
How much does an online degree cost?
According to NCES data compiled by BestColleges, the average net price for full-time first-year undergraduate students at distance-learning-only institutions was $15,467 during the 2020-21 school year. Over the course of a four-year program, that would add up to roughly $62,000.
However, the cost of an online degree varies depending on the degree and school type. For example, public colleges were significantly less expensive than private schools. Additionally, students attending accredited online schools can qualify for many types of financial aid, including federal aid programs.
What can I do with an online degree?
An online degree offered by an accredited college or university meets the requirements for many career paths. For example, with an online RN-to-BSN degree, nurses can apply to master's programs or pursue leadership roles in healthcare. An online bachelor's in education can meet the requirements for a teaching license, and an online MBA helps prepare business professionals for managerial responsibilities.
Prospective students should look for accreditation and a track record of online education. Applicants can also ask for job placement data to learn about their career prospects with an online degree.
Is it harder to get a job with an online degree?
A decade or two ago, online degrees were relatively rare. But today, millions of college students earn their degrees online every year. And the shift to remote learning during the pandemic made online education even more common. As a result, many employers hire applicants with an online degree. However, prospective students should ensure the program measures up.
Online students should only consider accredited schools. Unaccredited schools may not adhere to high academic standards and may not meet licensure and certification requirements for your career path. Research online programs and choose the best option for your intended field to improve your odds on the job market.
Are online college degrees legitimate?
Students comparing online and on-campus degrees may wonder whether an online learning format will harm their education and their chances on the job market. Fortunately, online education offers a legitimate pathway to a college degree.
In 2019, roughly 7.3 million students took online classes, and this number almost doubled in 2020 due to the pandemic. Online degrees from accredited colleges meet the same high standards as in-person degrees. As a result, many top colleges award identical diplomas to their online and on-campus graduates.
More College Planning Resources
---
Online schools educate learners at the K-12 and higher education levels. Here's what you need to know about online schooling at different grade levels.
Featured BestColleges Rankings
---